Faculty Member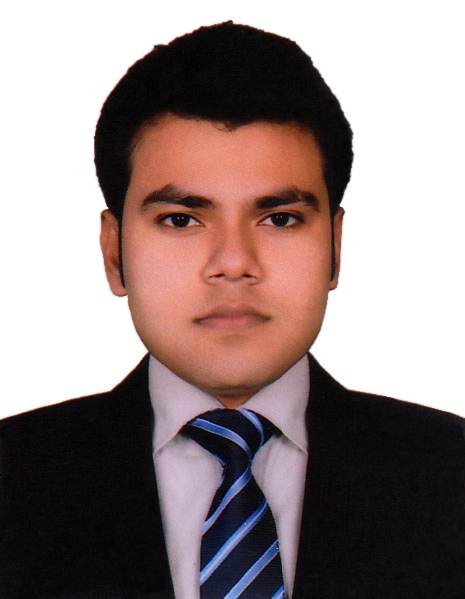 Md. Abul Hasanath Ove
Lecturer
M.Sc in Civil Engg. (Environmental), DUET (on thesis); B.Sc in Civil Engg., Presidency University

Overview
Md. Abul Hasanath is working as a Lecturer at the Department of Civil Engineering in World University of Bangladesh since August 7, 2017. Currenty he is persuing masters degree (M.Sc) in Civil & Environmental Engineering from Department of Civil Engineering of Dhaka University of Engineering & Technology (DUET) and he is Graduated (B.Sc) in Civil Engineering from Presidency University (PU), Dhaka, Bangladesh.
Prior to working in World University of Bangladesh (WUB),  Mr. Hasanath worked at several engineering and educational institutions e.g. Guest Lecturer at Adamjee cantonment College (ACC), Dhaka; Lecturer, Institute of Science, Trade & Technology (ISTT), Dhaka; Junior Civil Engineer at Dhaka WASA (DWASA) project named " Engineering Design and Preparation of Documents for Construction of Sewage Collection and Treatment Infrastructure at Uttara and Mirpur Area of Dhaka City"; Trainer  Institute of Creative Design (ICDBD), Dhaka.
He has successfully completed professional training program for academic staff organized by Institutional Quality Assurance Cell (IQAC) with financial and technical assistance from the University Grants Commission of Bangladesh (UGC), World Bank, WUB.
His research and teaching interest is Civil and Environmental Engineering related; more specifically- EIA, ETP, SWM, IEE, STP, CETP, Environmental Management, Heavy metal removal technologies, WWTP, Membrane filtration, Desalination,  Climate change etc.
Mr. Hasanath is also strongly expert in computing and has vast knowledge of these following- ETABS, GRASP, Auto CAD, SketchUP, SPSS, Professional Excel-Word-PPT, Adobe Photoshop, Adobe Illustrator etc.
Membership
Americal Concrete Institute (ACI), Membership # 1609485
Research and Awards
Supervised thesis/ Research works
A study on environmental impact of disposal of waste generated from garments factories at Chittagong city.
A study on traffic control devices from Shahbagh to Badda area in Dhaka city.
A study on the industrial fire safety management and risk assessment.
Environmental pollution of Baral river and its impact to environment.
The impact on environment and human health from disposal of waste water of garments factories at Rupganj area.
Fabrication of an eco-friendly water treatment plant to make swamp water drinkable.
Hospital Waste Management in Savar Area and Evaluation of its Environmental Pollution.
Others Certifications
Statistical Package for Social Science (SPSS) from Department of Statistics, University of Dhaka (DU), Bangladesh

Personal Presentation and Professional Conduct from Center for Youth Development (CFYD), Bangladesh

Teachers Skill Development Program - 2018 from Adamjee Cantonment College (ACC), Dhaka, Bangladesh
---