Faculty Member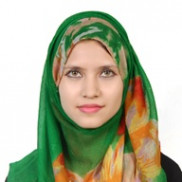 Short Biography:
Sabiha Ashtara Rekha obtained her M.Sc in Civil Engineering from Zhengzhou University at China. Her B.Sc is from World University of Bangladesh. Her major for both studies is in Structural Engineering. She has conducted research on  Active Damage Detection of LNG Tank by PZT materials on her master's degree. Her research interests is on
1) Smart materials and structures;
2) Structure Monitoring;
3) Structure design and Analysis;
4) Finite Element Analysis.
---