Faculty Member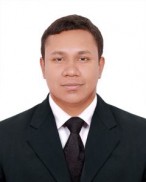 MD. ASADUZZAMAN RASEL
Lecturer
B. SC. IN ENGINEERING (CIVIL), UAP, 2018

Short Biography:
Md. Asaduzzaman Rasel obtained his B. Sc. in Engineering degree from UAP in October 2018. He completed his undergraduate thesis on Transportation Engineering. The topic of his dissertation was 'Traffic Emission Model for Dhaka City: Artificial Neural Network and Regression Model Approaches'.
Mr. Rasel joined World University of Bangladesh (WUB) in June 2018 as a Lecturer and currently instructs courses on Project Management and Professional Practices, Waste Water Engineering, Environmental Pollution Control. He also teaches sessional courses of Geotechnical Engineering. Prior to joining WUB Md. Rasel served at the Department of Civil Engineering of University of Asia Pacific from October 2018 to March 25, 2019. He worked also on the Project of "Assessing Walking Environment Quality of Dhaka" funded by Institute of Energy, Environment, Research and Development (IEERD) of University of Asia Pacific.
He is an Associate Member of The Institute of Engineers Bangladesh (IEB), Member of American Concrete Institute (ACI) and a Student Member of American Society of Civil Engineers (ASCE). Besides teaching Mr. Rasel is actively involved in the research. His research interests include Environmental Impact of Traffic Engineering and Transportation Modelling, Application of Micro-Simulation, Artificial Intelligence (AI), Neural Network and Accident Investigation.
Journal Section
Md. Asaduzzaman Rasel, Md. Nazmul Huda and L.Barua, 2017. "Traffic Characteristics on Moghbazar-Mouchak Flyover"

No Information yet
No Information yet
No Information yet
---